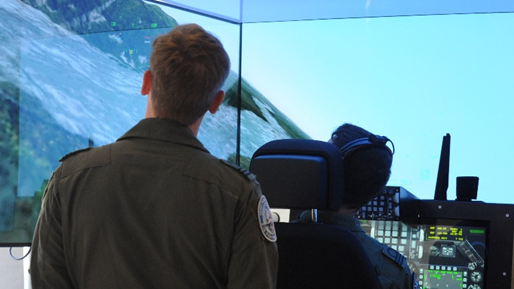 A delegation from a European Air Force has extensively tested and evaluated the Arenalogic 4 ship F-16 Tactical Training Center. The intensive three-day testing phase was conducted on the highly innovative and technologically advanced F-16 simulation system.
The Arenalogic F-16 Tactical Training Center is a unique, cutting-edge training solution that empowers pilots and operators to experience an incredibly realistic and immersive environment. At Arenalogic, we believe in revolutionizing the tactical training landscape, and our F-16 Training Center is testament to that commitment.
Promising Results from Extensive Testing
The three-day evaluation conducted by the European Air Force delegation included a range of missions, such as Air-to-Air, Air-to-Ground, and Close Air Support (CAS) missions, in both day and night scenarios. This comprehensive testing process underscored the versatility and adaptability of the F-16 Tactical Training Center, demonstrating its capacity to provide high-quality, realistic training across a range of tactical operations.
Advanced F-16 Tactical Training
The F-16 Tactical Training Center simulation Solution supports Level 3 training, enabling pilots to engage in Multi-Ship tactics and collaborate with real GCI controllers. It also simulates the capabilities of AWAC and JSTAR platforms, thereby creating a highly realistic tactical environment for all participants. This high fidelity simulation offers unparalleled tactical training value for our customers. Learn more about the Levels in our whitepaper.
F-16 Live/Virtual/Constructive Tactical Training
Our system enhances the efficiency and realism of live training by participating in live/virtual/constructive scenarios. It introduces computer-generated forces and rare assets into live training exercises, thus reducing the demand for live F-16 red air opponents while simultaneously creating a dynamic and realistic training environment.
Staying Ahead of F-16 Aircraft Updates
A unique advantage of the Arenalogic F-16 Tactical Training Center is its ability to keep trainees updated with the latest F-16 systems, weapons, and Operational Flight Program (OFP) updates. These are integrated into the simulator before they become available in the actual aircraft, facilitating a seamless transition and better preparedness for real-life scenarios.
Shared Costs and Affordability
The F-16 Tactical Training Center utilizes commercial off-the-shelf (COTS) products, making it not only more affordable but also easier to maintain. Our cost-sharing model allows us to deliver high-quality training solutions at a lower price point, ensuring a faster delivery time while maintaining air force-specific tailoring.
At Arenalogic, our mission is to deliver the most realistic, efficient, and valuable tactical training for F-16 pilots and operators. By focusing on advanced levels of training, leveraging COTS products, and integrating with live/virtual/constructive scenarios, we are setting a new standard in tactical training, preparing our customers for success in the field.
Innovative and Tailored Training
Arenalogic has designed the F-16 Tactical Training Center with the objective of creating a versatile and dynamic training solution. The flexible design can be tailored to meet the specific requirements of different air forces, making it an optimal choice for a variety of training environments.
Enhanced Realism and Immersive Experience
The advanced technology utilized in the Arenalogic F-16 Tactical Training Center ensures an immersive experience that closely mirrors real-world operations. This level of realism enhances the learning process, helping pilots and operators to gain valuable experience and improve their performance.
Future Developments
As part of our commitment to innovation and continuous improvement, Arenalogic plans to further enhance the F-16 Tactical Training Center. Upcoming developments will focus on integrating new technology and capabilities, to ensure that our training solutions remain at the forefront of tactical training technology.
Conclusion
Arenalogic is proud to contribute to the future of tactical training with the F-16 Tactical Training Center. Our dedication to realism, efficiency, and value ensures that we deliver the highest quality training solutions for F-16 pilots and operators. With the successful testing and evaluation by the European Air Force delegation, we continue to demonstrate our commitment to providing innovative, practical, and effective training solutions for the modern air force.